Christ Central Church started
as a dream between two friends.
Before there was a service,
before there was a building,
there was hope that this church could help Durham B E C O M E
what God was making it to be.
God wants Durham to flourish spiritually, socially, and culturally, and we believe that is best achieved through the power of the Gospel.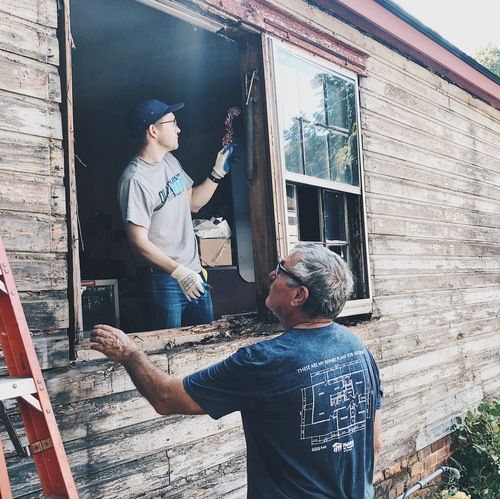 God is calling Christ Central Church to B E C O M E a people who are fully committed to the vision of His Kingdom. But we aren't there yet.
To be part of the narrative of this city is to be leaders and raise up future ones, to build a home and cultivate relationships, to listen and understand before we speak.
AND I AM SURE OF THIS, HE WHO BEGAN A GOOD WORK IN YOU WILL BRING IT TO COMPLETION AT THE DAY OF CHRIST JESUS.
- PHILIPPIANS 1:6
We want to B E C O M E a church that:
We want to create a leadership program, focusing on minority leadership, to equip and develop both lay and ministry leaders to
B E C O M E future leaders within our church, in the city, and around the world. The program will consist of comprehensive ministry internships, and an expedited seminary program through a local seminary.


We plan to plant churches both locally and globally in the next two to five years. Planting churches will allow us to partner with them as they become communities that seek to proclaim Christ in word and deed, and it will let us work with them to see spiritual, social and cultural renewal in the place God plants them.


As a church, we are passionate in seeking peace and prosperity for Durham. To do that, we believe God has called us to invest in and provide resources in four main areas: affordable housing, education, adoption & foster care, and the Hispanic community.


Permanently lives in the city
Stability in the heart of Durham is crucial if we want to build a home for years to come. We want Christ Central Church to be a beacon of the Gospel in the city long after we are gone, and the BECOME Initiative will allow us to have a permanent presence.


The B E C O M E Initiative is a two-year drive to raise a total of $5 million (including our normal annual budget), which will support God's work through our church in Durham. It is a step of faith that moves us closer toward becoming what He is creating us to be, and it is a pledge to see our city become more like heaven.
We pray because we believe God listens and responds. You can contribute by praying God would provide a the funds needed so that we can continue seeking his glory and BECOME what he is calling us to in this city.
We want to continue to rely on God for our provision, direction, and calling. And we want to give Him glory in all the ways he provides and cares for us. You can contribute by sharing moments of God's faithfulness in your life with others in the church, as well as with your neighbors and friends in the community.